PDFescape Extension for Firefox
Back to Help Topics
PDFescape's Extension for Firefox makes opening and editing PDF files online even easier. By installing this Firefox extension, you can opt to open, edit, print, and fill out all PDF files you encounter online directly in PDFescape.
Frequently Asked Questions
Do I need to register to use the PDFescape Extension?
Absolutely not! We hate sign up forms too. PDFescape is completely free and requires no registration. We do encourage frequent PDFescape users to register however, as it will allow you to save PDF files to your online profile.

To use PDFescape unregistered, simply click the huge "Start Using Unregistered" button!
How do I disable the PDFescape Extension?
Simply click the PDFescape icon in the upper right hand corner of your Firefox browser window until a red line is drawn through the icon.

What does it do?
The PDFescape Extension allows you to open and edit PDF files right inside your Firefox browser, without installing any software. PDFescape is a free online PDF editor and form filler created by Red Software. This extension makes some of its best features even more accessible during everyday use.
How do I uninstall the PDFescape Extension?
With the extension disabled, there is no need to uninstall, however doing so is easy. Simply start Firefox and click TOOLS -> ADD-ONS. A dialog will appear. Next to PDFescape, click UNINSTALL.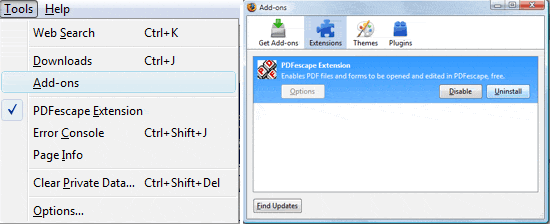 Can I use it with Internet Explorer?
No, you will need to install Firefox in order to use this feature. Just one of the many reasons we recommend Firefox to our customers! We do not have any plans at this time to make an Internet Explorer version.